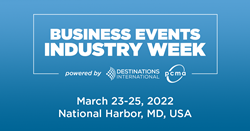 Destinations International, IAEE and PCMA Announce First Industry Week of Trade Events
WASHINGTON (PRWEB)
02 December 2021
Destinations International, the International Association of Exhibitions and Events (IAEE) and PCMA today announced Trade Events Industry Week, a week dedicated to community, commerce, content, awards and advocacy. to unite the global trade events industry and strengthen the power of trade events to advance economies and social good. This week is aimed at destinations and industry service providers to optimize their time with customers and engage in exceptional learning experiences.
The first Trade Events Industry Week, March 23-25, 2022, will bring together all those who are integral to organizing successful trade event results – associations, businesses, destination organizing professionals, suppliers. industry and trade events strategists. The action-packed week will be hosted with exciting client meetings and events to celebrate industry visionaries, all taking place at the Gaylord National Resort and Convention Center in National Harbor, MD.
The following industry events will coincide with Trade Events Industry Week:

The Destinations International Convention Sales and Service Summit will be held on Wednesday, March 23, as will a series of PCMA leadership meetings.
The IAEE Women's Leadership Forum will be held on Thursday, March 24.
The PCMA Foundation Visionary Awards will also take place on Thursday, March 24.
Destination Showcase, a joint venture between Destinations International and PCMA since 2019, will be held on Friday, March 25.
For more information, click here. More details are to come.
###
For all media inquiries, please contact:
PCMA

Meghan Risch

[email protected]

+1 312.388.1174
International destinations

Caitlyn blizzard

[email protected]

+1.202.835.4202
IAEA

Nicole Bowman, MBA

[email protected]

+1 469.534.3638
About PCMA:

PCMA educates, inspires and listens, creating meaningful experiences where passion, purpose and business meet. We are the world's largest community for business event strategists, providing top-level education, networking and market information for the global business events industry. Our mission is to foster social and economic progress through business events. Based in Chicago, PCMA has 17 chapters in the United States, Canada and Mexico with members in more than 40 countries and regional offices in Latin America, Europe and Singapore. Visit us at pcma.org.
About IAEE:

Recognized since 1928, the International Association of Exhibitions and Events® (IAEE) delivers quality and value to its members through leadership, service, training and strong relationships. The IAEE is the world's largest association for the exhibitions and events industry, with more than 1,300 trade show organizers, exhibitors and suppliers, and more than 12,000 individual members in 52 countries. The organizers of more than 20,000 buyer-seller exhibitions and events around the world are members of the IAEE, and the organization advocates and promotes awareness of face-to-face exhibitions and events as a primary vehicle for development and business growth.
The IAEE provides relevant, timely and innovative training to its members and the industry. In addition to the learning program and the globally recognized Certified in Exhibition Management® (CEM) designation, the IAEE has a strong focus on advocacy initiatives, including activities with the Exhibitions Mean Business and Meetings Mean Business coalitions, US Travel Association, US Department of Labor, Department of Commerce and Department of Homeland Security. Visit http://www.iaee.com for more information.
About International Destinations:

Destinations International is the world's largest resource for official destination organizations, convention and visitors' offices (CVBs), and tourism offices. Destinations International primarily serves destination marketing professionals. With more than 5,000 members and partners from nearly 600 destinations in around 15 countries, Destinations International represents a powerful, avant-garde collaborative association; exchange bold ideas, connect innovative people and elevate tourism to its highest potential. For more information, visit destinationsinternational.org.
Share the article on social media or by email: