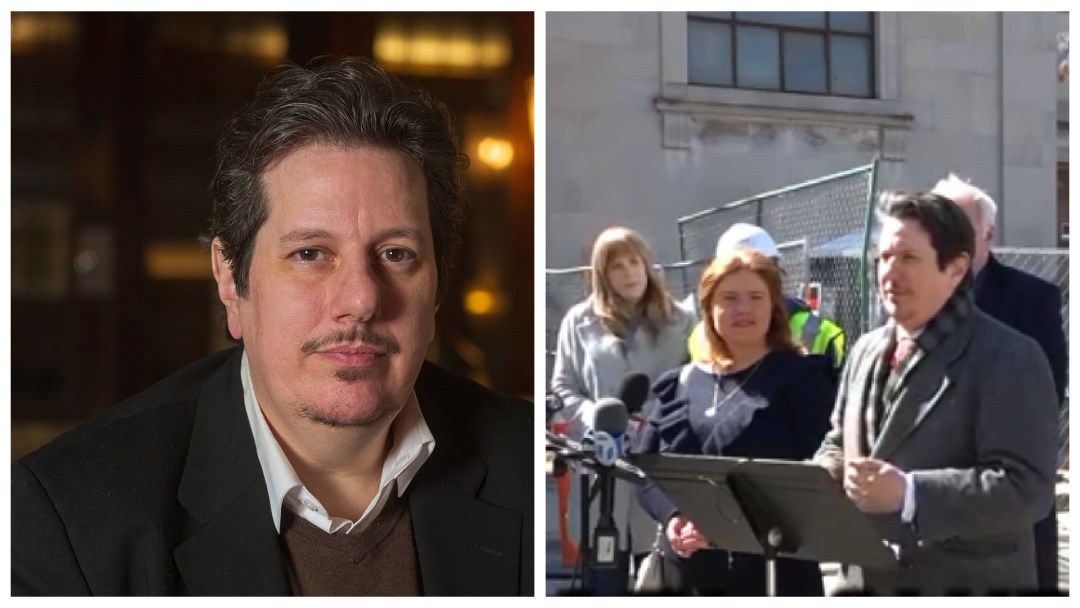 Woodlawn resident, community organizer Gabriel Piemonte running to replace Ald. Leslie Hairston on City Council
WOODLAWN – Gabriel Piemonte, a Woodlawn resident, journalist and community organizer, is running again to represent the 5th Ward on City Council.
Piemonte announced his candidacy for the seat on Monday, days after incumbent Ald. Leslie Hairston has announced that she will step down at the end of her term. He placed third in the 2019 Aldermen race.
"To the extent that you can make a difference as an individual, that's something I strive to do," Piemonte said in an interview Tuesday.
Piemonte is still working on the details of his platform, but will focus on issues such as public safety, reparations, housing and community land ownership during his campaign. He will release policy documents outlining his ideas over the next month, he said.
RELATED: Here is a full list of city council seats up for grabs in 2023
Community reporting and journalism education have been how Piemonte has paid the bills in the 23 years since settling in Chicago, he said. He previously wrote and edited for the Hyde Park Herald.
Piemonte co-founded a coalition to preserve Woodlawn's Christ the King Shrine after a devastating fire in 2015, and co-founded the South Side Community Federal Credit Union.
He also founded the Italian-American Heritage Society of Chicago, which "simultaneously celebrates culture … and pushes back against the idea that we need to celebrate murderers" like Christopher Columbus, he said.
Piedmont finished behind Hairston and activist William Calloway with 24.7% of the vote in 2019. Piedmont was less than 260 votes from qualifying for the second round.
In the four years since running for city council, public safety has become an increasingly pressing issue – especially for Hyde Parkers, Piemonte said.
"What is happening in Hyde Park is as real as anywhere, and the city is in crisis," Piemonte said. "In some parts of the ward crime is more of an issue in other parts, but no resident at this time can be told there aren't safety and security concerns."
His approach to security would "stop pouring money" into the police department and instead direct some police funds to economic and public health programs, he said.
Piemonte has proposed a program to provide jobs to all Chicagoans who want one. The city must also treat violence as a public health crisis and establish more "one-stop" health clinics with human services — similar to Friend Health in the 20th Arrondissement or Heartland Alliance in the 16th Arrondissement, a- he declared.
"That's how you stop the wave of violent crime in the city," Piemonte said. "You start giving people the feeling that you care about them. You start engaging them, instead of trying to come up with a new sanction or tougher laws….
Piedmont would also push for alderman reparations, especially for descendants of enslaved black people and for black people in Chicago harmed by racist housing policies.
"Housing is such a dramatic example of the persistence of racism into 2022," he said. "Decades have passed with brutal treatment, and the weapon of choice is housing instability."
"Substandard" housing conditions, particularly in Hyde Park and on the South Bank, are a related issue that Piemonte would tackle at City Council, he said.
Hairston's effort to secure $15 million for struggling South Shore condos and co-ops 'is a good start, but a drop in the ocean' compared to what's needed to improve housing in the neighborhood, he said.
Piedmont also called on the city to redistribute properties from absentee owners to neighborhood residents, which would help revitalize commercial corridors like 71st Street, he said.
Piemonte is the second candidate to take part in Ward's 5th race, after former Hyde Park Chamber manager Wallace Goode announced in July that he would run for the seat.
He expects the 5th Ward race to be "the Wild West" with several other candidates announcing offers in the coming weeks, he said.
With the retirement of Hairston and neighboring Ald. The candidacy for mayor of Sophia King (4th), "from the Buckingham fountain to the Center culturel de la Rive-Sud, the leadership that sees how [the south lakefront] will change or stay the same… is about to be wide open," Piemonte said.
Listen to "It's Alright: A Block Club Chicago Podcast":