Roman Villarreal's first-ever retrospective, 'South Chicago Legacies,' opens Friday at the Intuit Art Center
WEST TOWN — A prolific urban artist from the Southeast will make his debut this weekend with his first retrospective — an exhibition that reflects the complexity of life in his native South Chicago community.
Roman Villarreal is the self-taught creator behind a lakeside mermaid whose origins have remained a mystery for more than a decade, a tribute to the Southeastern Park workers of the Steelworkers, a sculpture of wildlife native to the park Big Marsh and many other public works.
Villarreal will present its "South Chicago Legacies" retrospective on Friday at the Intuit Center for Intuitive and Outsider Art, 756 N. Milwaukee Ave. in West Town. The exhibition, which features more than 40 years of sculptures and paintings, runs until January 8.
"Intuit lets me share the Southeast side with the world, not just Chicago," Villarreal said during the exhibit's soft launch on Thursday.
"You could dwell on the ugliness of city life – which, no matter what, is [ugly]," he said. "But there are also good points. There is also beauty and there is pride. There are all these things that mix together.
The art center is offering free admission to the first weekend of "South Chicago Legacies". It is open from 11 a.m. to 8 p.m. on Friday and from 11 a.m. to 6 p.m. on Saturday and Sunday.
The artwork, curated by Alison Amick of Intuit, takes visitors on a tour of life in South Chicago amid the decline and eventual death of the steel industry that boosted its economy.
Some plays emphasize the numbness of substance use and the heartbreak caused by violence. Others lead the viewer into the communal joy of a neighborhood parade and into the brotherhood between young brown and black men serving in the Vietnam War. Others draw on centuries of Aztec and Mexican symbolism.
As well as Villarreal's attention to detail and skillful technique, it's his ability to combine varied perspectives into a singular vision that sets him apart, Amick said.
"He was really able to bring his subjects to life in a variety of media, from large poplar pieces to Carrara marble," Amick said. "He is fearless in terms of what he tackles, the materials he chooses and his commitment to presenting his stories and the stories of those he sees and engages with."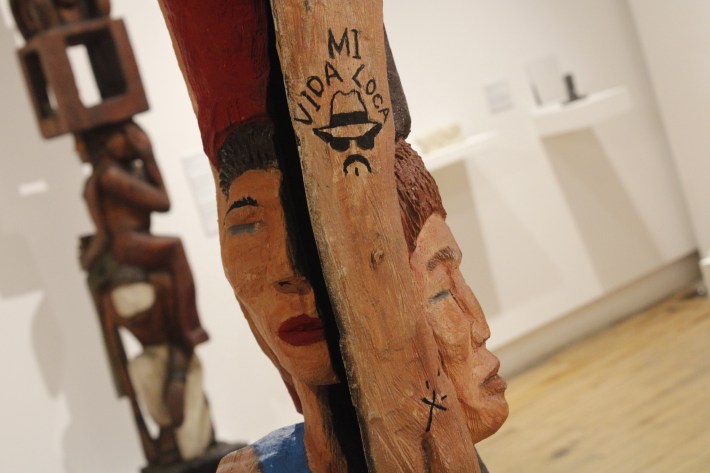 With symbols like syringes, skeletons and saints, there are clear themes throughout the exhibit. But its beauty — and the beauty of urban art in general — is that the pieces are open to interpretation, Villarreal said.
The faces of the two boxers featured in the "In a Clinch" sculpture appear fused together, much like the faces of a couple kissing in a foam piece called "The Parade" on display throughout the exhibit.
A viewer of the play once asked Villarreal if the two boxers kissed. It was not his intention; "not even close," he said.
But he was touched when the viewer – whose father was a boxer – said he saw the fighters in a moment of family or platonic intimacy, despite the violence of their sport.
"It was so cool for me to hear someone see my work in that way," Villarreal said. "It was important to share that moment with someone else who saw it in a completely different light."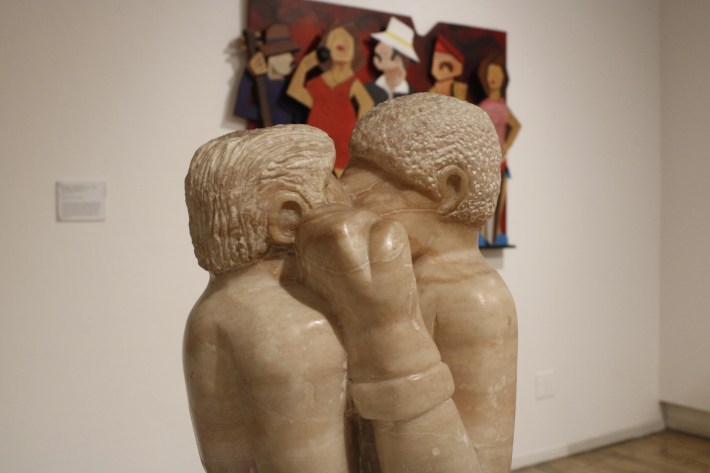 Villarreal lives the mixture of grace and toughness that is reflected in his works and in his community, he said.
The Bush native first grew his trademark mustache to hide a scar from a violent attack that left his lip split in two. He was a gang member in his youth and lived through the horrors of the Vietnam War.
He is also "a human being from planet Earth" who rejects all forms of discrimination; who regards Mother Nature as his collaborator in sculpture; who raves about the unique qualities of each stone he carves.
"I could live in peace with just about anyone," Villarreal said. "Now don't get me wrong, I'm not a pacifist. You hit me, I'm hitting you back. A city dweller will defend himself. … If we're gonna be for real, we're for real, but we don't like to cross that path.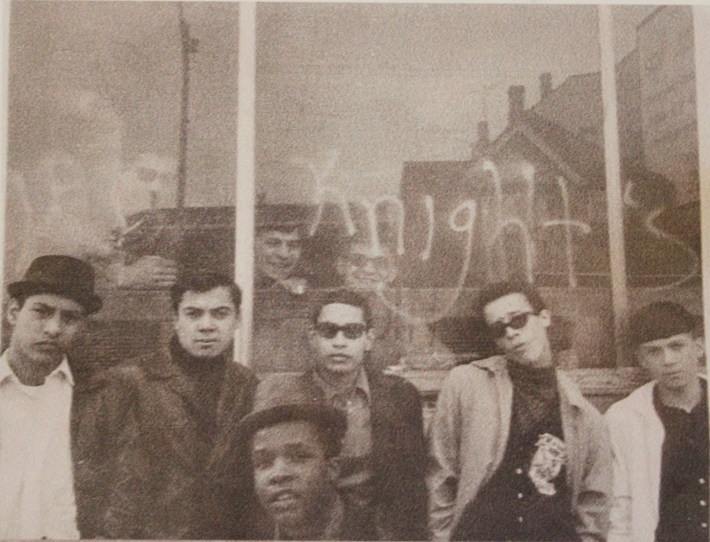 Villarreal fits perfectly with Intuit's mission to promote self-taught artists and those "who haven't received the attention of the mainstream art world," Amick said.
She discovered Villarreal's work through William Swislow – an Intuit board member whose recent book "Lakefront Anonymous" documents stone carvings like those at Promontory Point – and spent the year last about interviewing and arranging Villarreal's pieces for the exhibition.
"Roman's work truly deserves such a wide audience," Amick said. "He has so much to share and such amazing work. Much of it is in his studio or home, in addition to public artwork in the city of Chicago. We wanted to bring his work here.
Even after "South Chicago Legacies" wraps up early next year, Chicagoans should frequent Intuit and other spaces that concentrate non-traditional creations, Villarreal said.
"This museum is special," he said. "They do something so important: they represent the outdoors with pride. It's a big, big plus for us urban artists.
Listen to "It's Alright: A Block Club Chicago Podcast":