PORTAGE PARK — Residents can learn about the history of Portage Park on a walking tour this weekend.
Portage Park residents Giovina Romandine and Lance Baker will lead people on a 2.5-hour walking tour Sunday at 11 a.m. through the area. They will highlight the neighborhood's history, architecture, long-standing local businesses and recent developments.
The tour will begin at the City News Café, 4018 N. Cicero Ave., in Six Corners, then pass the Portage Park Theatre, parks, long-standing local businesses and early 20th century bungalows. It will end at the Patio Theater, 6008 W. Irving Park Road.
Attendees can join organizers for a visit to the Polish all-you-can-eat buffet Jolly Inn, 6501 W. Irving Park Road in Dunning, after the tour is over, tour guides said.
Attendees will learn about the community's immigrant roots and hear from small business owners who have seen decades of change in the region.
Romandine, who has lived in the neighborhood for 37 years and runs a Meetup group called 1001 Things to See in Chicago Before You Die, hopes the tour will put Portage Park on the map for Chicagoans unfamiliar with the area — and teach the history to those who are Far Northwest Siders.
"I want to show that Portage is affordable, quiet… [although] hipsters are coming – a lot of young families are moving into the neighborhood," Romandine said with a laugh. "Portage Park is neglected…. but there's so much going on at Six Corners [and] new restaurants.
Attendees can expect a game to be played on the 3-mile walking tour: guess how much the bungalows sell for, Romandine said. Earlier this month, she assembled a small group to test out the tour, and people were shocked at the affordability of Portage Park homes, she said.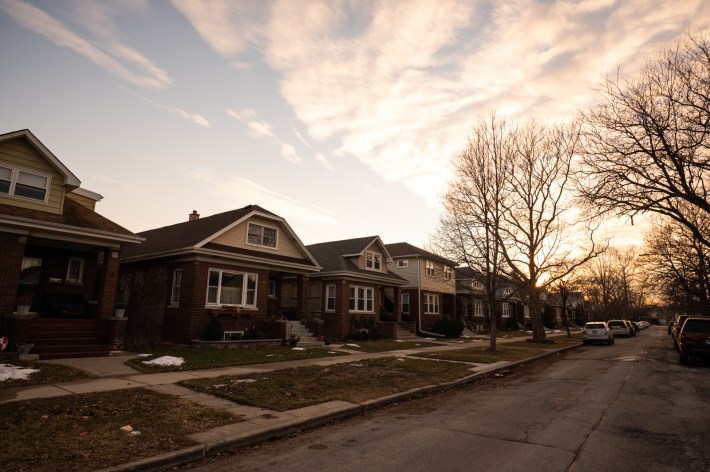 Romandine works with Chicago for Chicagoans, a volunteer-run nonprofit tourism company that creates inclusive walking tours by and for Chicago residents. The venture was started six years ago by Patti Swanson, the company's executive director, who encourages locals to get to know their blocks and learn from passionate residents.
Swanson likes to bring "people with significant lived experiences in the community to come around," like Romandine, a longtime Portage Park resident who knows the area well, Swanson said.
Swanson begged Romandine to show her neighborhood on a tour, she said. It's been in the works since before the pandemic, but it's finally a reality, Swanson said.
All company tours are free, but a suggested donation depending on the method of payment is requested. The money helps pay the tour guides as well as manage the nonprofit's expenses, Swanson said. The group offers tours led by residents and historians in nearly 30 Chicago neighborhoods.
People can register online for the Portage Park Tour and volunteer and donate to Chicago for the people of Chicago on its website.
Listen to "It's Alright: A Block Club Chicago Podcast":